My odometer is flashing. What do I do now?
You usually can fix this by removing the negative wire from the chassis battery.
The battery is located under the floor under the steering wheel and the negative wire is held on with a clamp so you can release it by hand, don't need a tool to do that. Leave it off for a minute or two.
If that doesn't do the trick then you'll need your RAM Businesslink to take a look.
What can I do if I have front end vibration at varying speeds in my 2020.5 or newer Travato with a roof rack?
If you have a 2020.5 – 2021 Travato you may be able to stop the vibration by moving the front roof rack bar further back.  Or, you can install an air dam in front of it.
If you have a 2022 or newer Travato you would be better off just removing the front bar or putting an air dam in front of it because the rack mounting will be in the way of trying to just relocate it.
How do I reset the Promaster engine oil change reminder?
Turn key to on ( but don't start the vehicle )
Press the gas pedal to the floor 3 times within 5-7 seconds
That will reset your oil change indicator.
Turn the key off and remove it.
Where are the jack points located under the Travato
The jack points are located as shown in the RAM Promaster manual: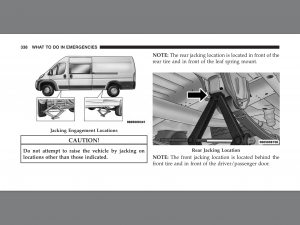 Should I use premium or regular gas in my Travato?
According to the RAM Promaster Owner's Manual you should only use Regular gasoline.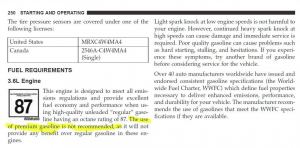 What RAM Promaster chassis is a Travato built on?
It's a "RAM 3500 PROMASTER CARGO 159 EXT" (that basically means the High-Top / Extended Wheelbase / Chassis).
Where can I get all of the details about my RAM Promaster chassis including the in-service date and mileage?
When you go to your RAM "Business Link" Dealer for an oil change and a tire rotation, ask them to run you a "VIP Summary Report." It will detail all of the specific info for your particular VIN, including FCA Warranty Coverage. Your vehicle will be described as, "RAM 3500 PROMASTER CARGO 159 EXT" (that basically means the High-Top / Extended Wheelbase / Chassis). The VIP Report will help you verify the "In-Service Date" and the "In-Service Mileage" that FCA is showing in their system. You need to make sure those dates match the actual Purchase Date and Purchase Mileage of when you bought your Travato.
The report will look like this example: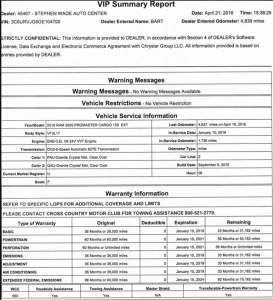 What can I do to seal the gaps at the back doors?
Some people have added automotive weatherstripping on the door frame and the doors themselves with good results.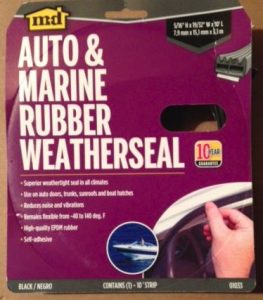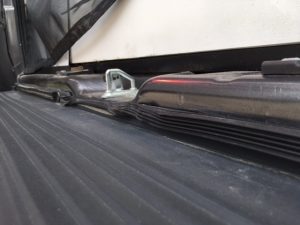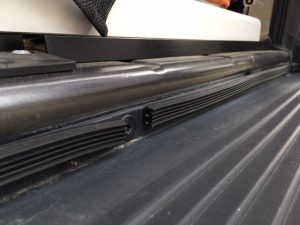 Why is there a flashing light on the dash located below the temperature controls?
It flashes when you lock with the remote and not when you lock by pressing that button.