How can I get an accurate read on my propane tank level?
The best way to read the tank level is to use the gauge located underneath the coach on the propane tank.  It is a little awkward to access. Some owners reach under with their phones and take a picture.  Others reach in with a mirror. The tank level reading on the One Place monitor in the coach is not necessarily accurate.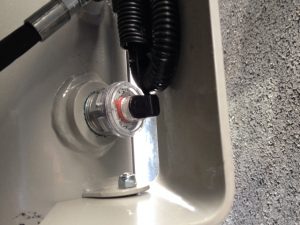 What is the procedure for filling the propane tank?
Turn off the propane switch inside the camper. This closes the solenoid valve on the outlet of the propane tank. The filling station may also throw the switch next to the fill. If they do, be sure it's turned back on after the filling operation is complete.
Pull up to the propane filling station as directed by the attendant. Turn off the engine. Make sure the Truma heating system (or older furnace if you have an early Travato) is turned off. If you have a G model with a three-way fridge (2018 or earlier), make sure it is not running on gas.
Exit the vehicle. All persons and pets should be outside the vehicle while propane is being loaded.
The tank has a capacity of 6 gallons, but propane tanks are filled to 80%, so the usable capacity is 4.8 gallons. The indoor gauge on the OnePlace isn't very accurate.
Advise the attendant they will likely need to use the bleeder to get a good fill. Also let them know the capacity of the tank and what the inside gauge shows, so they have some idea what to expect.
What is the capacity of the propane tank mounted under the Travato?
The propane tank is a 6 gallon tank, but since propane tanks can only be filled to 80% of capacity, the usable storage is 4.8 gallons.